Every minute, piClock scans through ribbons of digits from the number pi to find the current time and date.


26,289 digits into pi lies the block "1234"
.
See how many places past the decimal point a four-digit block such as "
12:34
" lies, and where all the other occurrences of that block appear amid the first million decimal places.

Pick a Number, any Number
*

Not in the mood for
pi
? Try a different (à la) mode.
Scientific types may take a natural interest in Euler's Number,
e
, while artists and architects might have a proportionate affinity for the Golden Ratio,
phi
. Or even double your pi-leasure and take a turn with
tau
.
No matter in which of these you irrationally place value, piClock covers the bases.
* Subject to availability (currently limited to four choices).
Universal Constants
As a single app designed to run on both iPad and iPhone (with graphics optimized for the Retina Display), piClock can not only put times on your table but also function as your constant companion while you're commuting, associating, or even distributing.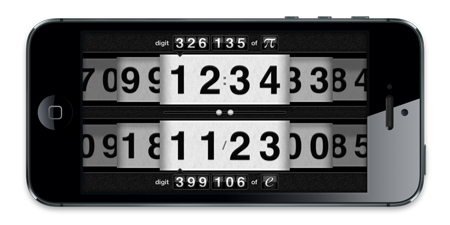 C'mon Get (Digit-)Happy!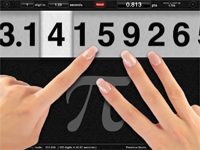 If it weren't for the decimal point,
this game would have no point at all.
piClock for iPad includes
DigiTappy
, the ultimate test of
press-the-digit-ation
.
Simply tap through each digit of
pi
by touching the screen with "that many" fingers.
How far —and how fast— can you go?
Watch the Clock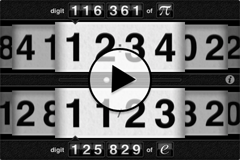 Spend half a minute
with piClock.
(480x320, 5.1 MB)
iPad screenshots
(1024 x 768)




iPhone screenshots
(960 x 640)




Master Time and Pace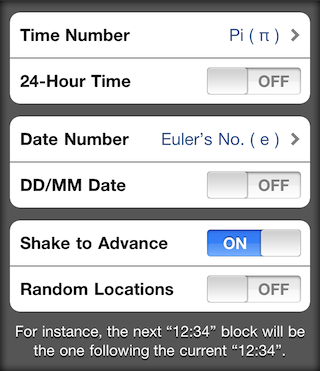 Assign time and date numbers separately, and choose which display formats you prefer.
Don't care to wait a full minute for action? Shake piClock to get things moving at will, advancing instantly from one occurrence of "
12
:
34
" to the next, until "
12
:
35
" arrives.
And if advancing one-by-one through the occurrences of a four-digit block lacks excitement, perhaps the "Random Locations" setting will provide the chaotic thrill you desire.
For a Good Time, Call ...
Or, rather,
follow
@piclockapp
on Twitter for reports on hot dates throughout the year, such as
Pi Day (3/14)
Tau Day (6/28)
Fibonacci Day (11/23)
Palindrome Days (01/10, 02/20, 03/30, etc)
Binary Days (01/01, 01/10, 01/11, etc)
Count-Down Day (12/11/10)
Count-Up Day (8/9/10)
180-Degree Rotational Symmetry Day (11/5/11)
Suggestions welcome!